Discover more from Notes on Videographic Criticism
News, links, essays, interviews and more.
Volume 1, Issue 18: Making a Video Essay II
And Don't Forget to Send in a Video About Cary Grant!
Let me first extend a big thank you to those of you who reached out and offered kind words after the first installment of "Making a Video Essay." I was so humbled and pleased to learn that the questions I laid out resonated with many of you. I think one of the hardest parts about starting a video essay is demystifying the process itself, especially when one has not made a video essay before or, if you're like me, still trying to figure out one's own style and aims as a videographic critic.
And so, here's the beginning of an idea for my next video essay:
My first paper as a an M.Phil. student at Cambridge centered on Grace Kelly, specifically the development of her star image/persona in her three Hitchcock films: Dial 'M' for Murder (1954), Rear Window (1954), and To Catch a Thief (1955). In his conversation with Truffaut, Hitchcock said:
Anyway, to build up Grace Kelly, in each picture between Dial M for Murder and To Catch a Thief we made her role a more interesting one. (pg. 226)
I won't bore you with the details now, but essentially I took Hitchcock's comment and used it as a starting point for the paper, using a blend of Star Studies and Hitchcock Studies to better understand Kelly's performances and how they related to the development of her star image. Quickly and in the simplest terms possible: one sees her go from the victim of an attempted murder in Dial 'M', to the high-class socialite battling for Jimmy Stewart's attention in Rear Window, to quite literally sitting behind the wheel in her relationship with Cary Grant in TCAT. I'm not making a value judgement on her performances or the films (I am extremely fond of all three. In fact, here's my Hitchcock hot take: Rear Window is the only one of these films not in my top five Hitchcock films. It's probably six or seven. And yes, it's still a masterpiece. Relax!), but instead trying to understand the development of her star image during that crucial period. The idea came to me, as unbelievably corny and idyllic as it may sound, after walking by the poster below, which for several months hung in the window of a jewelry store in Cambridge, just a few doors down from Sainsbury's.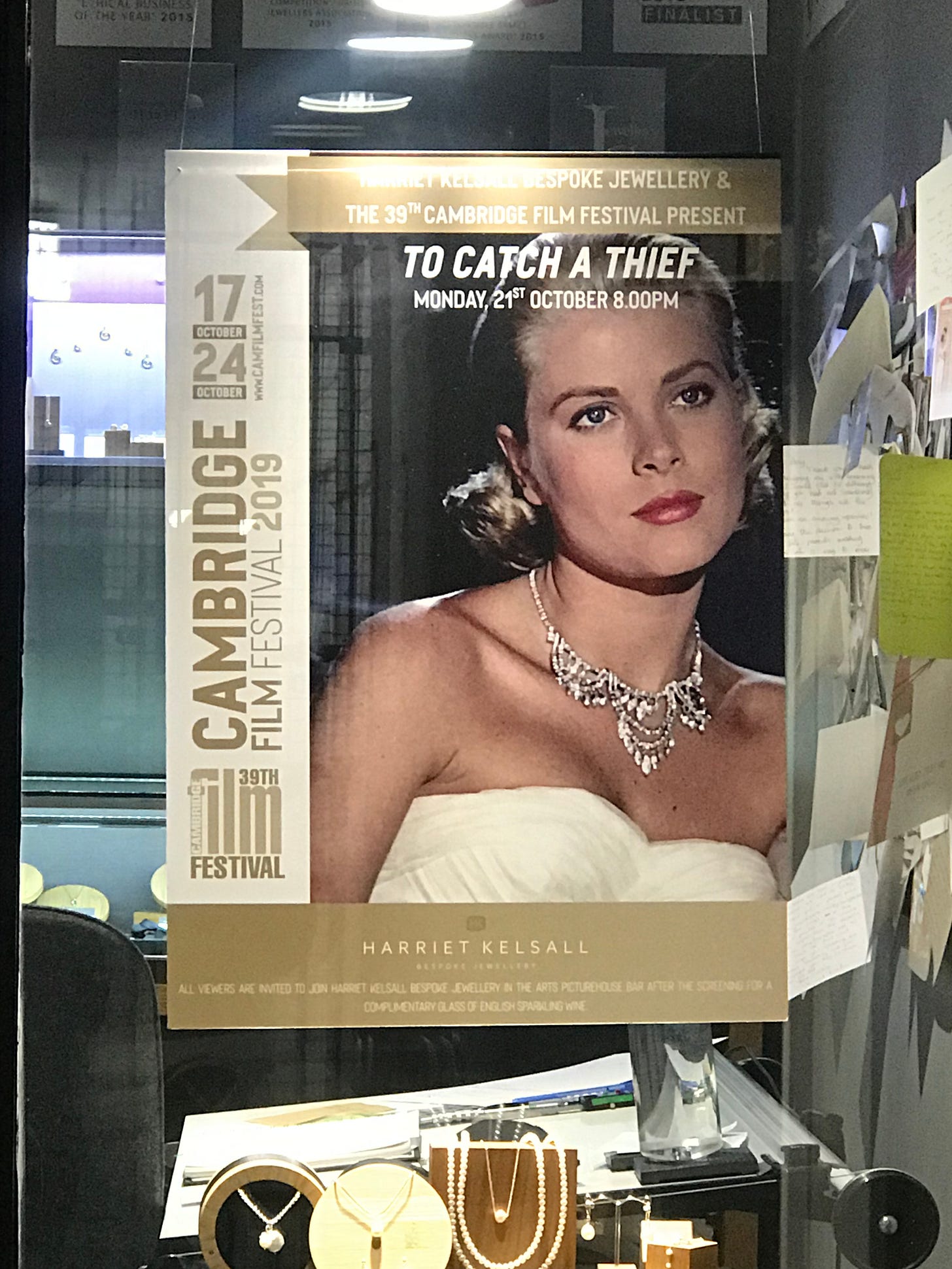 Casual fans of Grace Kelly may be surprised to learn that she only appeared in nine feature films. She made her screen debut in the surprisingly enjoyable Fourteen Hours (Hathaway; 1951), which tells the story of a New York City traffic cop who successfully convinces a man about to jump off the 15th floor of a hotel that life is worth living. Kelly is on screen for only about ten minutes, and is removed from the action. Here's how Wikipedia describes her character: "A woman is seen at a nearby law office, where she is about to sign the final papers for her divorce. Amid legal formalities, she watches the drama unfold. Moved by the tragic events, she decides to reconcile with her husband." Melodrama! If you haven't seen Fourteen Hours before (you can watch the entire film on YouTube) but are wondering why the title sounds familiar, it's because it was the source film for my PechaKucha!
Anyway, Kelly went on to star in eight more movies: High Noon, John Ford's Mogambo, The Country Girl, Green Fire, The Bridges at Toko-Ri, The Swan, High Society, and, of course, the Hitchcock films.
Given the small filmography and my love of Kelly's work, I knew pretty much from the outset of my research into her life and career that I wanted to make some sort of video essay that made use of them all. I then watched her final "performance" or "appearance" in a film, the documentary of her marriage to Prince Rainier, The Wedding in Monaco.
Many of Kelly's fans, scholars, and biographers have remarked on how her film performances mirrored her own life, and the similarities and differences between Grace Kelly the person and Grace Kelly the star. I won't say anything more about the project, but instead will, for now, end with two final questions: what would happen if I recreated The Wedding in Monaco using only images from her nine other performances? And what would this tell us about Princess Grace and "Grace Kelly"?
---
Partnership with the Cary Comes Home Festival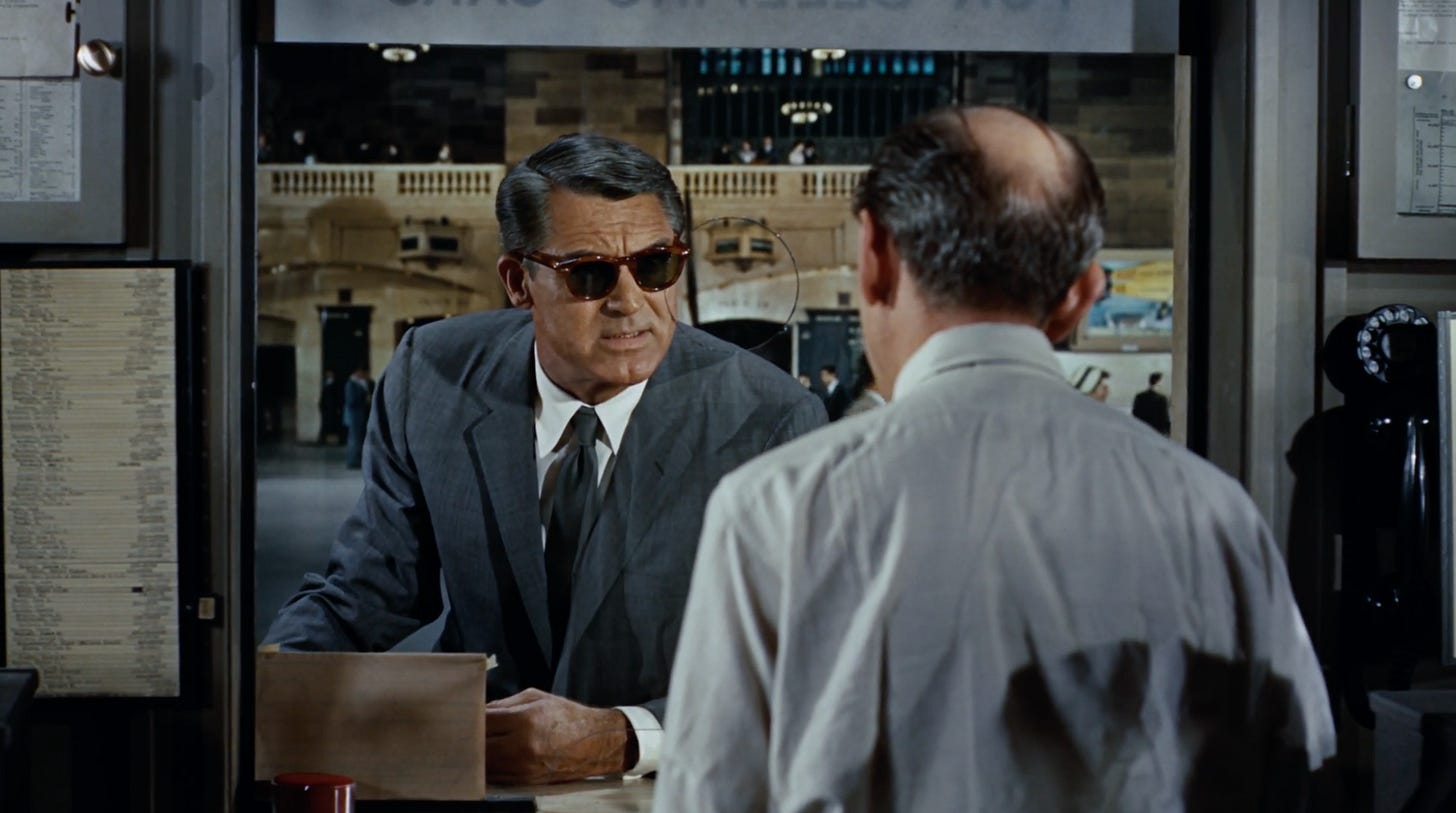 Another reminder that the podcast is partnering with the Cary Comes Home Festival, the Bristol, UK-based festival honoring the life and work of Cary Grant, to present "The Journeys of Cary Grant: An Audiovisual Celebration."
Celebrating the 100th anniversary of Grant's journey to the United States and international stardom, we are seeking video essays exploring journeys of many types.​​​​​​​ We are interested in exploring the idea of the journey, not only in terms of geography, place, space and physical travels (both real life and on film), but also in terms of psychological journeys: voyages of identity, self-discovery and self-invention.  We are open to all kinds of journeys, including fan journeys, star pilgrimage, set-jetting, movie location tours and rephotography and all forms of audio-visual criticism, including video essays, fanvids, and any kind of video that reappropriates footage of Cary Grant. Videos of any length will be accepted but the ideal length will be between 5-6 minutes. 
All submitted work will be featured on the Cary Comes Home website and on The Video Essay Podcast website. Some of the best work will be featured on an episode of The Video Essay Podcast which will be recorded live at the virtual festival in November. Creators will be invited to join the conversation!
The rolling deadline for submissions is Friday, October 16th. Submit here.
---
News & Notes
I need your help curating this section!! Have something that should be featured? Email me: willdigravio@gmail.com
SUBSCRIBE TO THE PODCAST: iTunes | Spotify | SoundCloud