Volume 1, Issue 20: Bravo Rio
Camden International Film Festival, New Issue of [in]Transition, Epigraphs Return
Wanna hear a kinda sad, but definitely frustrating, story? I finished my latest videographic experiment, which, as you'll see below, is more than two hours long, on Sunday evening. The video is a whopping 17.06 GB, so I decided to export the file on to my external hard drive (I'm sure there was a way to reduce the file size, and I'm sure someone will let me know how to fix this in the future!)
Anyway, my trusty MacBook Pro needed many, many hours to export the video, so I decided to allow the process to run its course overnight. When I woke up for work the next day, the video was at 93% and I was excited to watch the end result. I then gently picked up my video and external hard drive and moved them to the other side of my desk so I could get ready for work. Can you guess what happened? Somehow the external hard drive got unplugged and my export was destroyed. Sad! And so, that's why this newsletter was delayed and my Monday morning was even less fun than usual.
What follows is a video I have tentatively titled "Rio Bravo, Bravo Rio." The idea for the video has been kicking around my head for awhile, and I think will mark the official launch of a new project of mine dedicated to Rio Bravo, and more specifically my own relationship with the film. I'll have more on this on Halloween. Spooky, I know.
Fans of The Video Essay Podcast will remember that I interviewed Jacob T. Swinney on Episode 5 of the show. We discussed his video essay "First and Final Frames," which currently has more than 2.5 million views on Vimeo, and his twitter account, "First & Final Frames," which has more than 21 thousand followers. The video, which has sequels, is a supercut comprised of first and final frames from a variety of films, whereas his tweets take screenshots of the first and final frames and place them side by side like so:
Since my conversation with Jacob, I've been thinking about the first and final frames of my favorite film, Howard Hawks's Rio Bravo (1959). As Hawks, Robin Wood, and many others have said, Rio Bravo is a film about (among other things, of course) friendship. In the first frame of Rio Bravo, Dude (Dean Martin) slides through the saloon door alone, hungry, dirty, in need of a friend. In the final frame, Dude, clean-shaven, relatively well-rested and -dressed, and Stumpy (Walter Brennan) walk away from the camera, laughing, together. As the image fades to black, Dean Martin sings, "By the memory of a song, while the rolling Rio Bravo rolls along. While the rolling Rio Bravo roooolllllss aaaaloooonngggg." Just two frames capture Dude's journey in the film, and get at the film's narrative core.

Jacob's fascination with the relationship between a film's first and final frames got me thinking about how such analysis could be applied more broadly in videographic criticism, particularly as a way examine the narrative symmetry of a film. And so, here's what I came up with:
While this video took a long time to export, it did not take a particularly long time to make. First, I took two files of the complete film and placed them one on top of the other in Adobe Premiere and then trimmed the opening credits. I reversed the file on top and adjusted the opacity to 50% to make the film play backwards over itself. The video begins and ends with the first and final 44 seconds of the film playing side by side. That portion of the video is keyframed so that the images slowly grow, move towards the center, and merge into the layered image that comprises the rest of the video. The process then reverses itself at the end when the images shrink and return to the side by side position.
As I wrote back in May, I like to think of videographic criticism as a kind of archeological dig, where one combs through images and sounds in search of tiny new contributions to knowledge. I don't plan to watch this video all the way through any time soon, and I don't expect anyone else to do so either! Instead, I view this video as a site of future exploration, or, to borrow Jason Mittell's phrase, a self-contained lab of sounds and images that hopefully reveals something about certain moments of Rio Bravo, or, at the very least, yields some beautiful images!
In that spirit, here's a photo essay of some of my findings: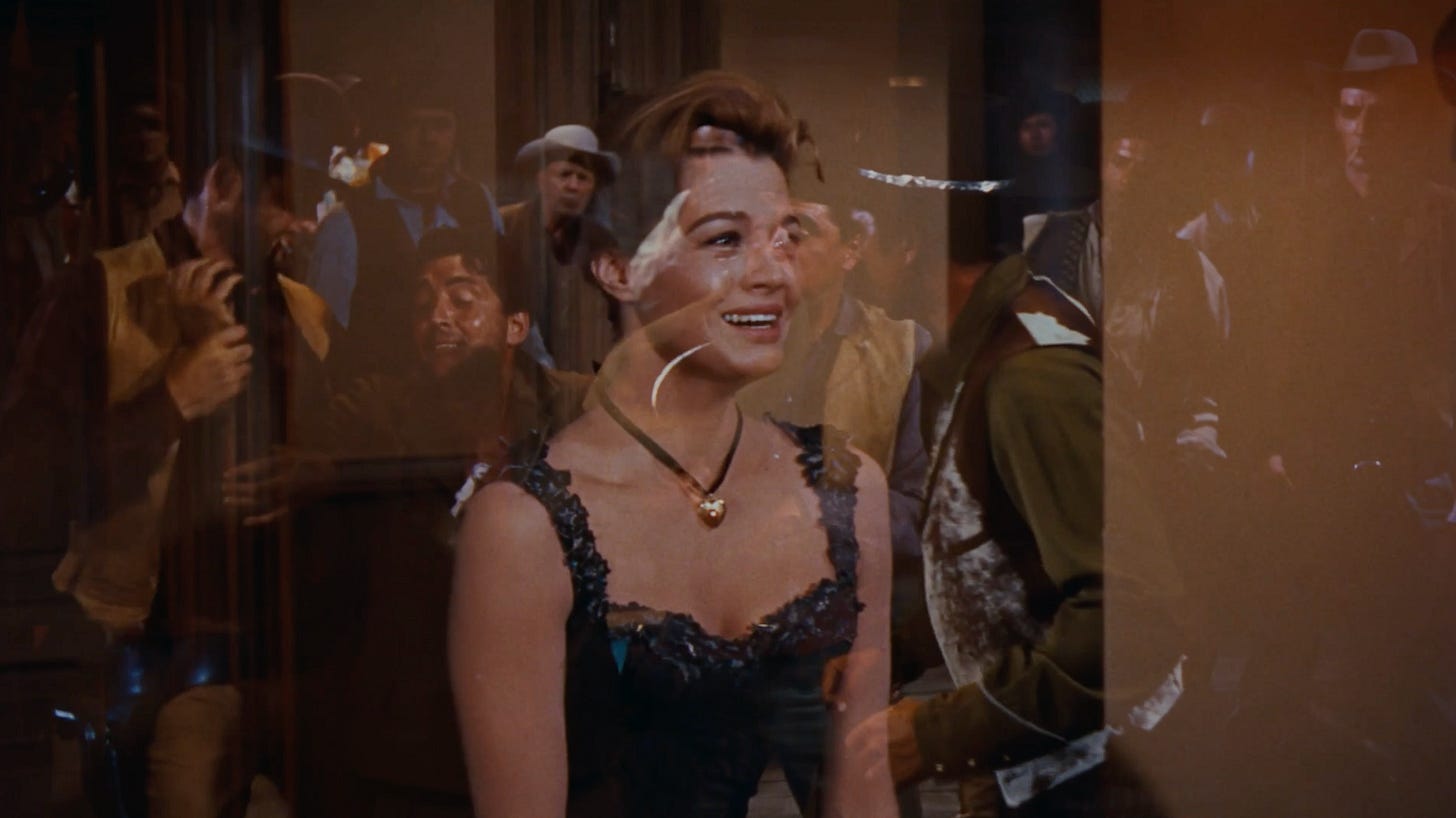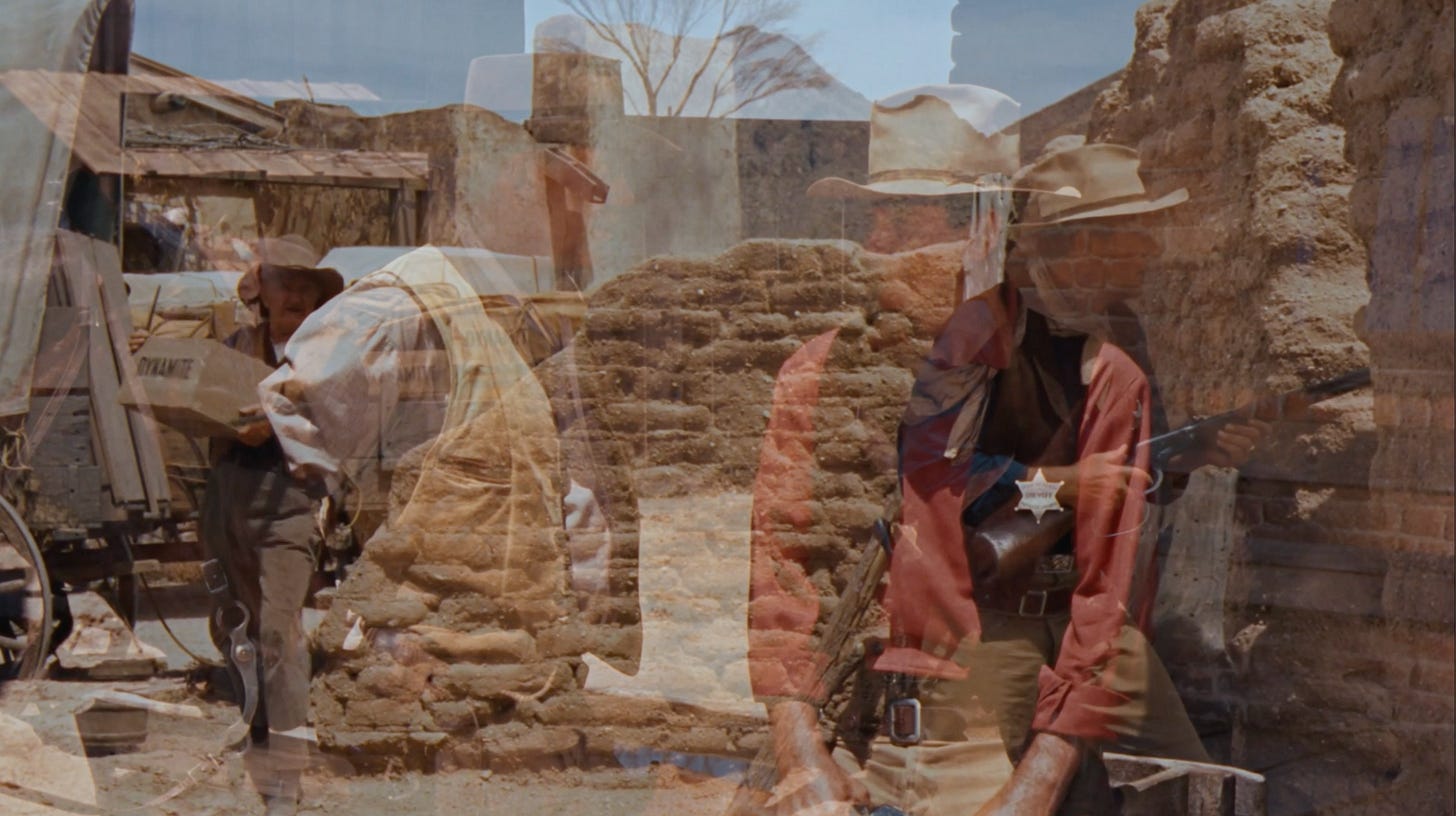 A little context to this one: one image is of the famous scene when Pat Wheeler (Ward Bond) says to Chance (John Wayne), "A lame-legged old man and a drunk. That's all ya got." And Chance corrects him, "That's what I've got." The other image is of Stumpy, aka the "lame-legged old man," saving the day at the end of the film by bringing chance dynamite. I could cry!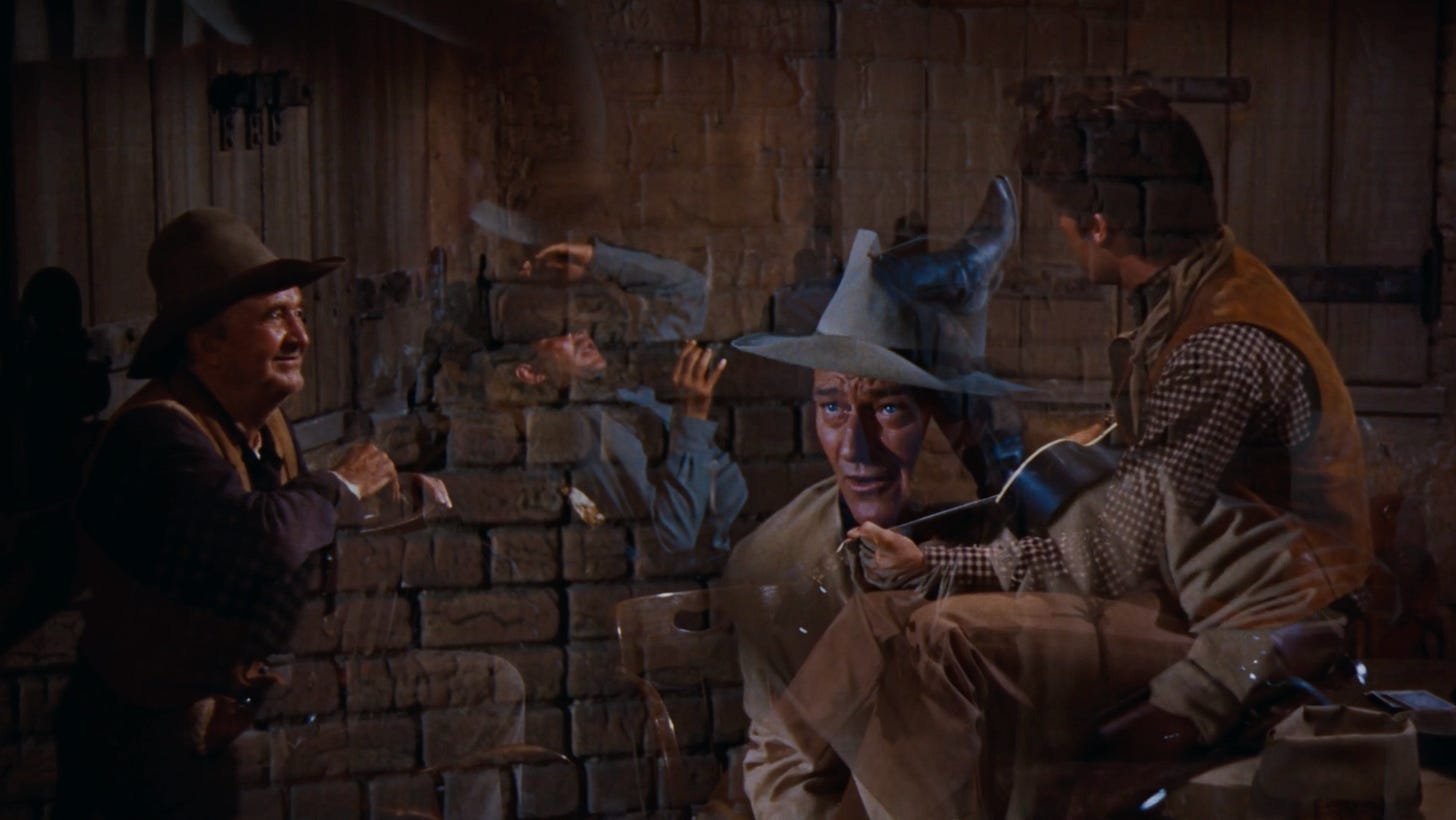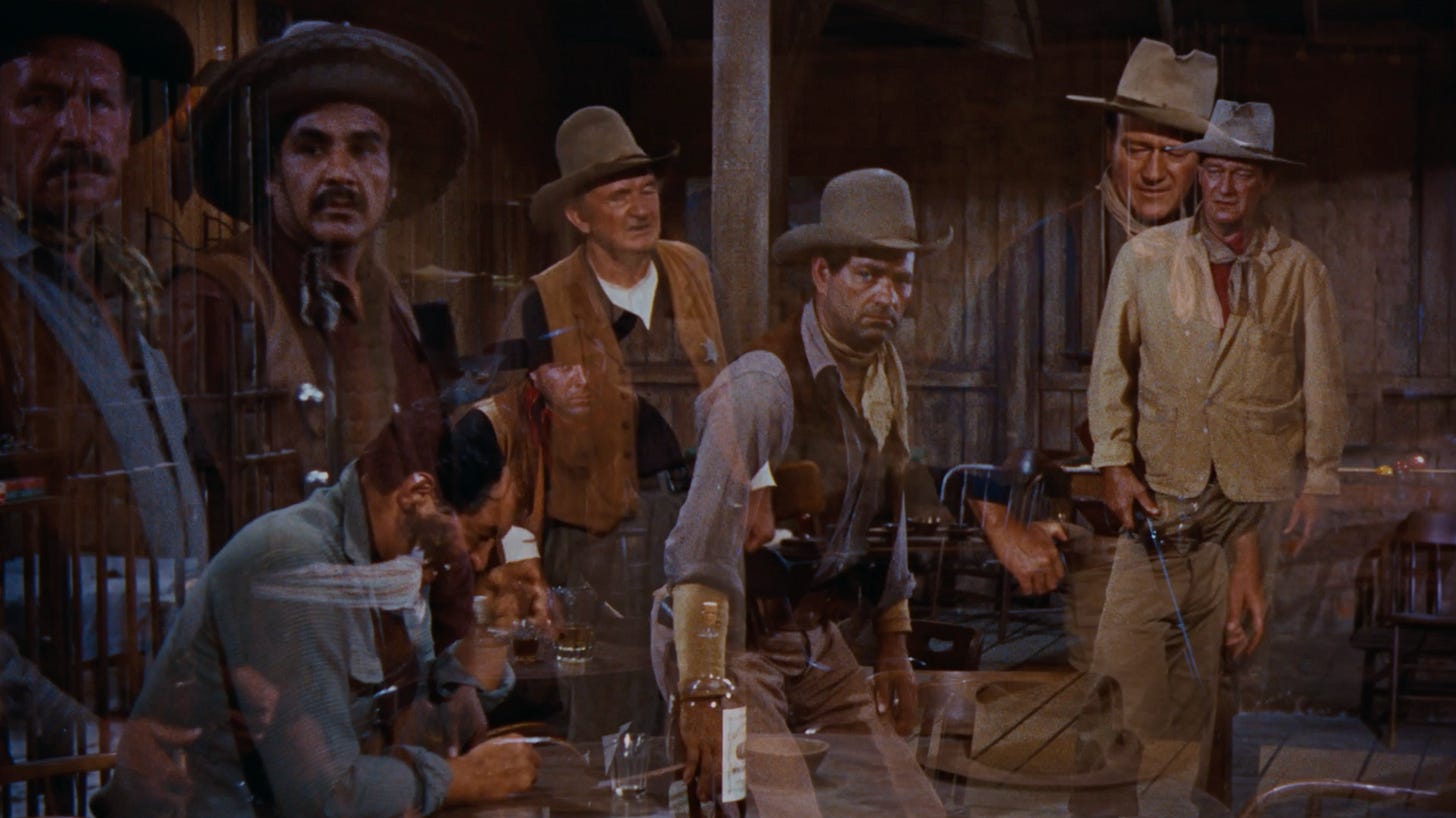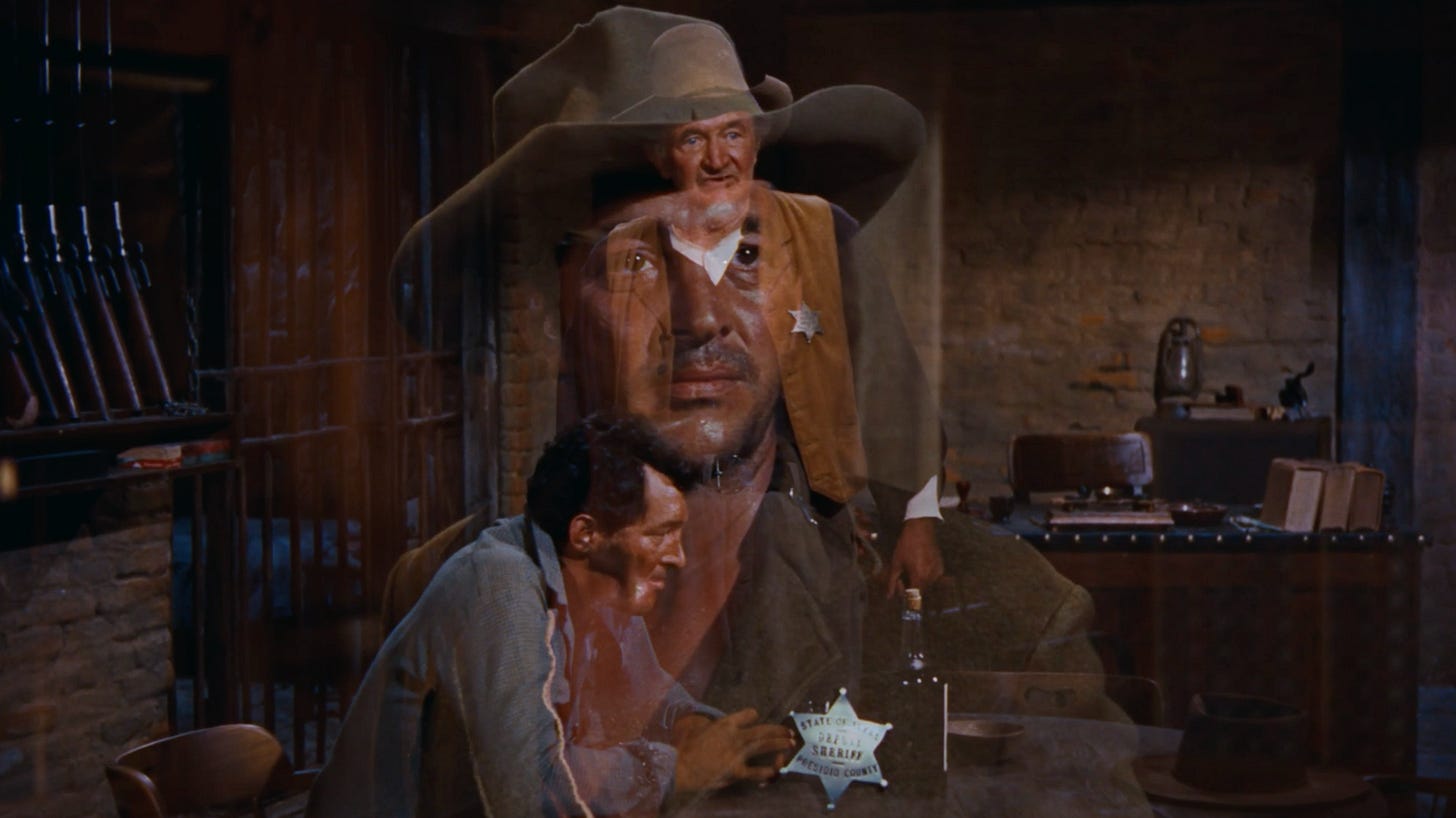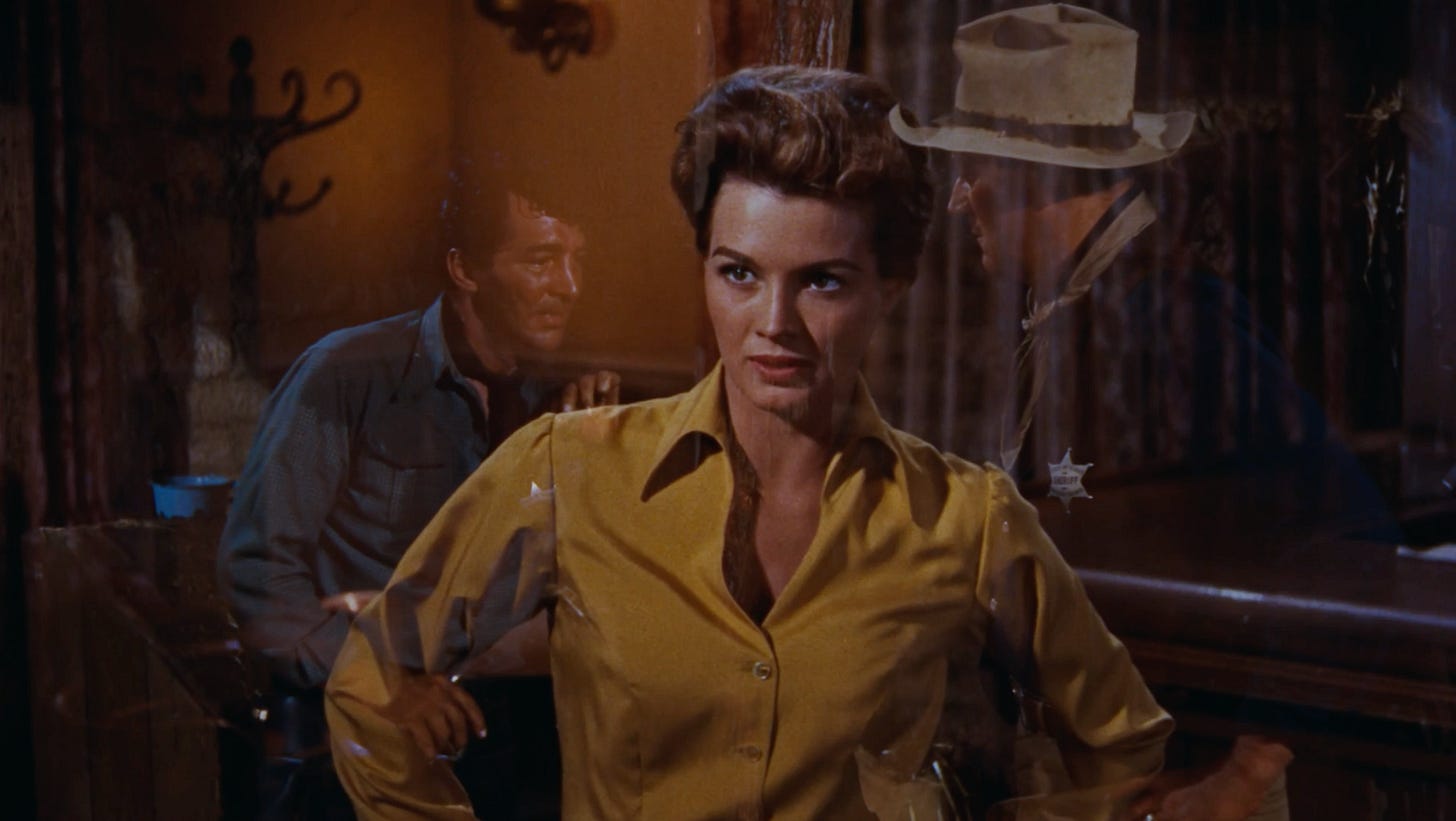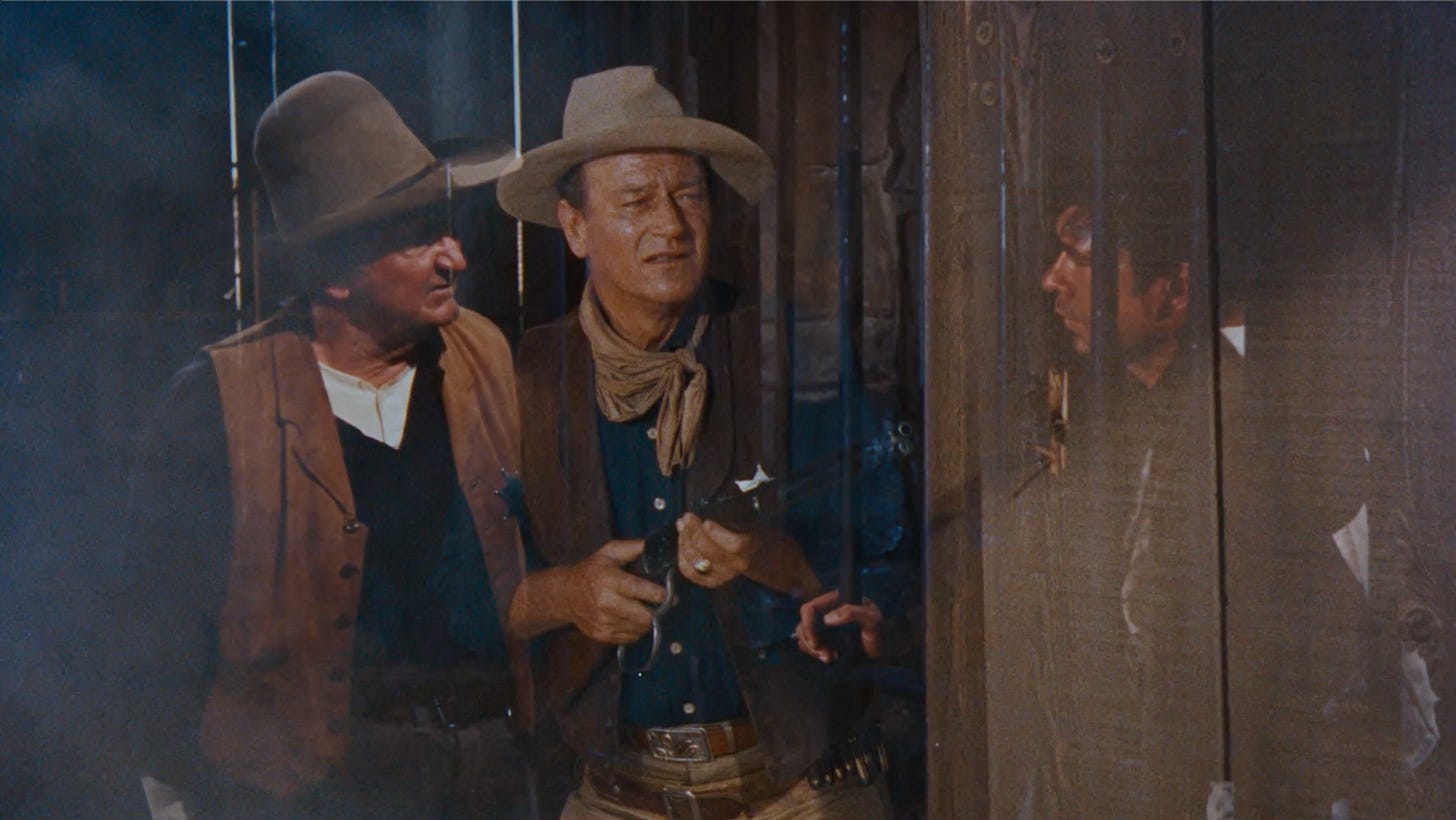 SubStack is telling me that I've exceeded the media limit for this post! Have a look for yourself and let me know what you find!
---
Partnership with the Cary Comes Home Festival
Another reminder that the podcast is partnering with the Cary Comes Home Festival, the Bristol, UK-based festival honoring the life and work of Cary Grant, to present "The Journeys of Cary Grant: An Audiovisual Celebration."
Celebrating the 100th anniversary of Grant's journey to the United States and international stardom, we are seeking video essays exploring journeys of many types.​​​​​​​ We are interested in exploring the idea of the journey, not only in terms of geography, place, space and physical travels (both real life and on film), but also in terms of psychological journeys: voyages of identity, self-discovery and self-invention.  We are open to all kinds of journeys, including fan journeys, star pilgrimage, set-jetting, movie location tours and rephotography and all forms of audio-visual criticism, including video essays, fanvids, and any kind of video that reappropriates footage of Cary Grant. Videos of any length will be accepted but the ideal length will be between 5-6 minutes. 
All submitted work will be featured on the Cary Comes Home website and on The Video Essay Podcast website. Some of the best work will be featured on an episode of The Video Essay Podcast which will be recorded live at the virtual festival in November. Creators will be invited to join the conversation!
The rolling deadline for submissions is tomorrow/today Friday, October 16th!!! Submit here.
---
Black Lives Matter Video Essay Playlist
On Friday, selections from the Black Lives Matter Video Essay Playlist screened at the Camden International Film Festival! Kevin B. Lee, Cydnii Wilde Harris, and I participated in a live Q&A, and the event featured interview with Bria Nachele, Cara Washington, Manny Fidel, and the hosts of the podcast For All Nerds. You can watch the full event here! And thanks so much to the folks at the festival for inviting us to participate and making the event happen!
And please don't forget about the most recent episode of the podcast, which features the audio from our event at Open City Documentary Festival. Plus, check out this wonderful video Ian Garwood made!
---
News & Notes
I need your help curating this section!! Have something that should be featured? Email me: willdigravio@gmail.com
I was a guest on the most recent episode of "Film Studies bling-bling," a podcast by Anna Luise Kiss. Our conversation begins at around the 25 minute mark and centers on The Video Essay podcast, why I created it, and my approach to "open science." Listen here. Anna Luise has also published the first of two posts about podcasting on the Open Media Studies blog. Read here.

The latest issue of [in]Transition was released on Monday! Watch and read here.

A truly wonderful new resource from Learning On Screen: "Introductory Guide to Video Essays."

The event "Presenting Afterimages: On Cinema, Women and Changing Times By Laura Mulvey" is now available to watch online. Watch here. Mulvey discusses her new book with Catherine Grant!

Via NECSUS: Greg de Cuir Jr and Miriam de Rosa are organizing the 'Alternative Research Forum' on the topic of Desktop Cinema. More here.

A free event, on October 16, from the Birkbeck Institute of the Moving Image: "Found Footage Open Forum." Learn more and register here. (h/t Catherine Grant)

Peter Labuza, on his new podcast, Framing Media, interviews Katie Bird about her video essay, "Feeling and Thought as They Take Form: Early Steadicam, Labor, and Technology (1975-1985)," which was published in [in]Transition earlier this year. Listen here.

Screenworks is looking for two associate editors to join their editorial team. Learn more here. Deadline to apply is Oct. 31. (P.S. I'm an assistant editor, and would definitely encourage anyone reading to apply!)

Apply for the Barbara Hammer Lesbian Experimental Filmmaking Grant. Deadline is October 31.

And a throwback!!
---
Student Spotlight: Q&A with Owen Mason-Hill
Each week, the newsletter will aim to feature a video essay made by a student(s) along with a short Q&A. Is there a student(s) or former student(s) of yours you would like to see highlighted? Email willdigravio@gmail.com.
Owen Mason-Hill created this video under the supervision of Christian Keathley at Middlebury College.
This is one of the best videographic epigraphs I've ever watched. My first question is a technical one: what programs and effects did you use to achieve the stunning visuals? And how did those programs/effects shape the piece? In other words, did you play around with visual effects in creating this essay, or did you go into the essay knowing which video effects you were going to use? 
This project was edited entirely in Adobe Premiere and is more so a product of my lack of experience with the application than any sort of groundbreaking technical achievement. I opened Premiere for the first time just a year ago and after a fruitless attempt to master the application in one sitting, I found it much more effective to search for effect as I needed them. For example, this was really my first time working with color in any sophisticated way, so most of this project was spent watching videos and reading articles about Premiere's Lumetri color panel and experimenting with color wheels and the Ultra Key effect — which allowed me to key out certain colors and replace them with new ones. The bulk of the editing was spent manipulating keyframes and finding the right combination of saturation that would allow me to achieve the effects I wanted; I'm sure a more experienced editor could've edited this piece in half the time. Along with some key-framed text boxes, the project was really quite simple in its effects and only flows as well as it does because of the hours spent manipulating each effect frame by frame. I'm almost certain there was an easier way to do it, but I really wanted this to be an experimental piece where I didn't feel self conscious about trying out new color techniques. 
How did the parameters of the videographic epigraph assignment shape the piece? Was there something you added to the piece because of the assignment, or something you would have liked to have done but didn't because it fell outside the parameters? 
My idea for this epigraph was to really build the video around the text. In my first attempt at it last spring, I had a really difficult time finding a body of text that I liked and the project suffered because of it. This time, I really put in the time to find some text that lended itself well to this kind of work and Schrader's piece was really incredible. It seemed perfect for this project, each sentence had a clear link to some sort of visual representation. After that, it was really about finding clever ways to integrate the text into the video. The real secret of this project was handpicking the sentences and rearranging their order to suit the scene I had. I've watched a good number of epigraphs both made by students in my class and elsewhere and found that trying to cram a whole essay into a three minute video wasn't effective; I was much more captivated by the pieces that used text sparingly and impact fully. Another aspect of the prompt that really helped me was when it called for the complete overhaul of the soundtrack. The characters in these clips spork really quickly and after watching it with the soundtrack muted I found that it was much more legible; their snappy dialogue only bogged down the emphasis and readability of the text which was the real focal point of the piece. I took out the sound completely and added back some of the score used later in the film and synched up a lot of the cuts with it. I always enjoy when audio and visuals are linked. After a few instances of linkage, the viewer comes to expect edits when they hear auditory cues; it really primes you for the next thing. You always want to include moments of surprise, but adding certain expectations can help keep the focus on what is important rather than any sort of apprehension for what is to come.
In videographic criticism, a lot of people seem to be drawn to Wes Anderson's work. Why do you think that is? And what drew you to his work? 
Wes Anderson's films are so audiovisually exciting; he seems to be the director who puts the most emphasis on creating this sort of hyper-saturated world that's so delightful to work with. It's seen in dominating red of the elevator, the rich purple of the uniforms, the subdued pink of the interiors. It's like choosing to work with a palette of the most mesmerizing colors available; you just can't beat the stimulating beauty of his films. There's an element of 'play' that Anderson's films are imbued with — this idea of 'play' is beautifully dissected in this Nerdwriter1 video essay reflection on the passing of Robin Williams. Anderson's films are an exaggerated reality where characters walk, talk, and act in the most perfect and stylized way. This is what makes them so alluring to makers of videographic work: his ability to play with what the world could be is very inspiring. He also injects so much whimsy into his work; whether it be in the delightfully charming eagerness of Zero or the light and dainty music that plays overhead. Along with this, Anderson commands such an iconic and overpowering directorial aesthetic, tempting me to try to steal authorship from him. It's such an impossible task — to rework the aesthetic of a director with possibly the most recognizable style — that its appeal is undeniable. It's so difficult yet rewarding to try to take ownership of any aspect of his work, making the challenge all the more fun. In trying to rework his material, I created this wonderful dialogue wherein I would slip in and out of his aesthetic, at times leaning in to it while in others stripping it of its luster. That's the element of 'play' that his work embodies, it opens itself up to this interaction, this back-and-forth that is so exciting. 
What is something you learned in the process of making this video, either about the film or the written text? 
For me, this project was really an experimentation with color. My eagerness for editing far surpasses my aptitude for it, so allowing myself the chance to manipulate different aspects of shots was really educational. I began to learn what effects are really effective and what kinds of shots lend themselves to this type of editing. I'm also working towards creating more polished work that feels less like a student project. That's why I spend time creating little title cards and editing to the beat of the soundtrack; I think it creates a more refined and enjoyable viewing experience. It's also been fun to receive such positive feedback from my peers and viewers. The video only has 75 views at the moment of writing this, but it's such an explosion from the five family members and one professor that previously viewed my work. It's an odd feeling to have strangers watch and react to my work, but I've found it to be much more joyful than I would have thought. I was driven to Anderson's films because I thought they lended themselves so wonderfully to this type of videographic work, and while I think my initial thoughts were right, I've only found that it makes me want to try to work with other filmmakers all the more. It's one thing to make an already bright and saturated film look beautiful, but to make something that isn't in the same aesthetic appealing to viewers seems like a worthy challenge. I'm really quite happy with this last project, but I'm even more excited about the next one.