Volume 1, Issue 1: Beginnings
Episode 14. Leigh Singer, New Issue of [In]Transition, Student Spotlight
Welcome to the first official issue of "Notes on Videographic Criticism." I hope the title of this newsletter does not come across as too self-important. I kicked around several different titles until I thought back to when I assembled a list of names for the podcast and Catherine Grant wisely suggested I keep it simple and go with "The Video Essay Podcast." So, here we are.
A few weeks ago, when I asked listeners for feedback on the show, a few of you kindly suggested that I begin each episode with a monologue sharing my thoughts on videographic criticism, an individual video essay, etc. And while I was flattered by the response, I have found that the podcast format is not one in which I feel very comfortable for anything but conversation — perhaps I have come to this conclusion after having to edit my own voice for hours and hours before releasing each show, an experience I would not wish upon my worst enemy. A friend of mine recently remarked that I sometimes talk too fast at the beginning of the show. This is often because the introduction is what I record last and I'm a) so eager to finish the show and get it out into the world and b) I want to make editing my own voice as short and sweet as possible. And so, this newsletter will be a happy medium. Plus, I do consider myself a writer, though you wouldn't know it by the snail's pace at which I am finishing my MPhil thesis.
Each week, this newsletter will begin with a short essay by me on something related to videographic criticism. Hopefully, I will get around to finishing one of the many videographic projects I have going at the moment and I will be able to share and write about it (them) here. But, the rest of this newsletter will be driven by you, dear reader, and what you would like to see/read each week. I imagine this newsletter as a mix of news, random thoughts, links, information on the podcast, Q&As with creators, and more! And this is where you come in: please send me stuff! If there is something going on that you think would be of interest to the video essay community please let me know. Luckily, many video essayists are active on Twitter and I see a lot of great stuff there. But there is, of course, stuff I miss, so please send it my way! Email willdigravio@gmail.com with anything and everything related to video essays.
A call for commentary: Finally, I will add that I am also open to publishing short texts by readers of this newsletter! If you would like to write about a video essay or a topic related to videographic criticism, I am happy to publish 200-300 word commentaries. Please do not write about your own video essay! Question/proposals/drafts can also be sent to my email.
And now, the good stuff:
---
Episode 14. Leigh Singer
The most recent episode of the podcast was released on Wednesday and featured a conversation with Leigh Singer. Leigh is a UK-based film journalist, programmer, and video essayist. On the show we discuss his most recent essay, "The Movies Behind Your Favorite GIFS" and kogonada's 2014 video essay, "Linklater // On Cinema & Time." Click here to access the videos and more information.
---
News, Notes, & Links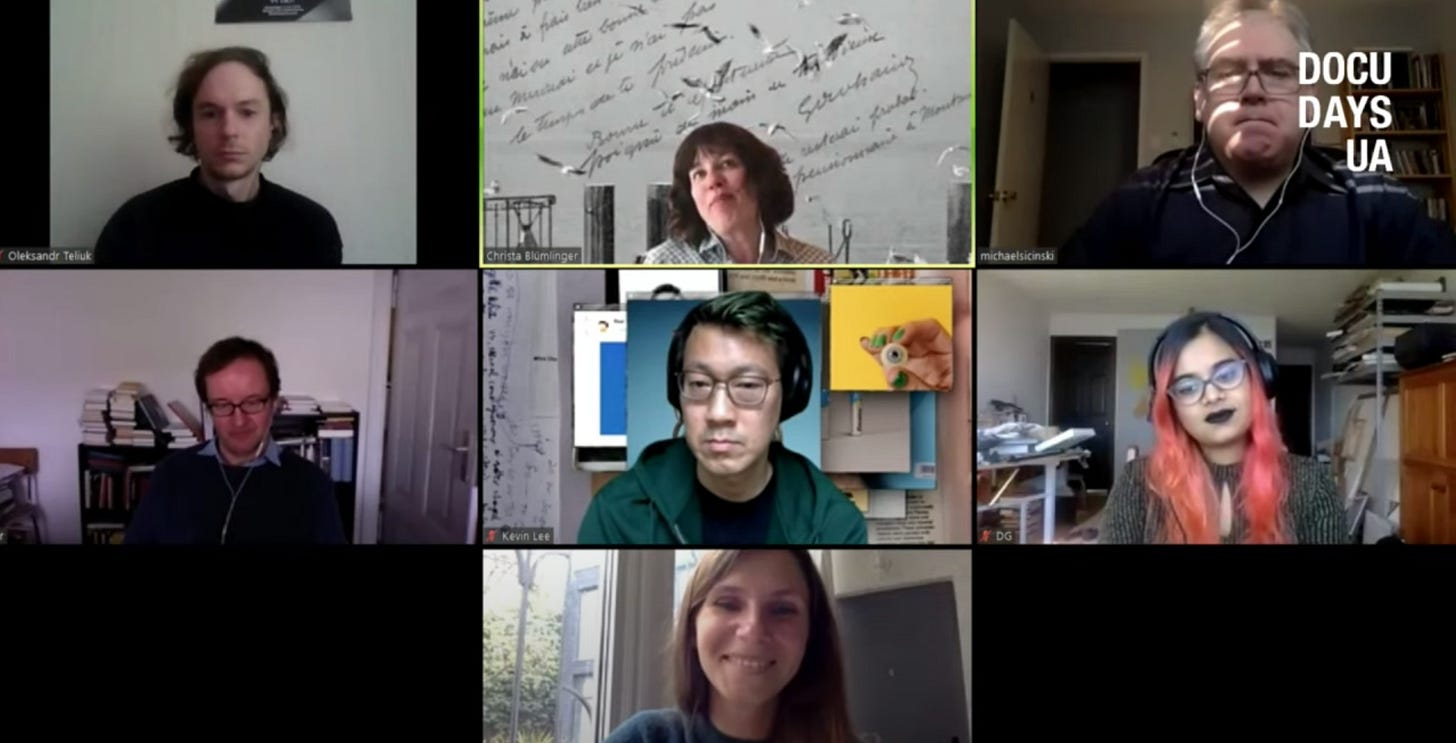 ---
Student Spotlight: A Q&A with Maya Beiman
Each week, the newsletter will aim to feature a video essay made by a student along with a short Q&A. Is there a student or former student of yours you would like to see highlighted? Email willdigravio@gmail.com.
Maya Beiman is a student at the Steve Tisch School of Film and Television at Tel Aviv University. This video was created as part of a videographic criticism workshop taught by Ariel Avissar.
Will DiGravio: Is this the first video essay you have ever made? If so, how did you find the process? Was there a breakthrough moment or something that surprised you?
Maya Beiman: "In Her Own Words" was my final project in this course, and it's the first video essay I've created from scratch – from conceiving the idea to the video publication. It was a very challenging process for me. Personally, I usually go into projects very "goal oriented", but this time I took my professor's advice and started from collecting the materials, which in turn gave me inspiration. Looking back, I don't think I could have done it any other way. I mean, it's hard for me to imagine it's possible to create a video essay when you have a very clear template for it in advance. In my opinion, searching and forming the video's statement as you go is an inherent part of the process.
WD: What drew you to Meryl Streep?
MB: Meryl Streep has always been my favorite actress. How many more people would probably say the same? A lot. This is what's interesting about Meryl Streep - she is exceptional and undoubtably talented but also very relatable. Alongside her unique intelligence and emotional sensitivity, she is exceptionally versatile. She manages to naturally slip into any genre - comedy, thrillers and even musicals. What's so remarkable about it is that she manages to do it not only on screen, but also in her personal life. Streep can go from serious, influential statements to humorous and graceful ones, making it very hard to resist her charm.
WD: What is one part of the video you're particularly proud of? 
MB: I think one of the things that makes this video relatable and touching is the composition of the different shots, which is actually a composition of imageries. I tried to create a flow, which allows the viewer to dive into Streep's life and career. If there's something I'm especially proud of in this essay, it is the harmony between the text and the image, between the statement and the emotion. This is what makes this video emotional and touching.
WD: The piece was brilliantly edited and the voiceover and music blended together so well. What was this process like and do you have any tips for people who may want to make a similar video? 
MB: In my essay I tried not only to tell Meryl's story, but make the viewer feel her story too. Combining her "life soundtrack", in which she describes her guidelines as an artist and a creator, and close-ups where she manages to express emotions without words, I tried to emphasize how unique and powerful she is. The creation process began with collecting materials and conducting a thorough research. From the visuals and the audio, I've learned Streep's ability to control and express emotion. I listened to her powerful words and learned about the powerful connection between these two elements. For example, I decided to eliminate almost all of the shots where she was speaking, and chose to mostly concentrate on close-ups where she stared right at the camera, with no words. Moreover, I shortened the video by almost 50 percent from its original form. I edited the materials at least twenty times, each time helped me to make it more precise. One thing that helped me during this process is consulting and playing with the materials, creating sketches and asking for advice. Each new perspective affected the final outcome.
---
PechaKucha and Epigraph Homework
As I mentioned on this week's podcast, I was blown away with the response to the PechaKucha assignment. More than 30 PechaKuchas were made! So many of you said the exercise was fun, therapeutic, and/or a welcome distraction from our current moment. For a full list of all the PechaKuchas made, click here. And if you didn't make a PechaKucha but still want to get in on the fun, feel free to send me yours and I will add it to our website and showcase!
The current homework assignment is to make a videographic epigraph. I describe the exercise in more detail here. For those who have not yet listened to the two most recent shows, we are currently making our way through the videographic exercises created by Catherine Grant, Jason Mittell, and Christian Keathley for the Scholarship in Sound & Image Workshop. The exercises are all outlined in great detail in their open-access Scalar book, The Videographic Essay: Practice and Pedagogy.
And congratulations to Ian Magor for being the first person to send in an epigraph! Watch below:
---
Preview to Episode 15. Shannon Strucci
Our next guest will video essayist (StrucciMovies and Scanline) and podcaster (Critical Bits and Struggle Session) Shannon Strucci. We will discuss Shannon's 2018 video, "Fake Friends Episode Two: parasocial hell" and Harry S. Plinkett's (Mike Stoklasa) review of Star Wars Episode I: Phantom Menace, a seven part video produced by Red Letter Media.
---
SUBSCRIBE: iTunes | Spotify | SoundCloud
FOLLOW: Twitter | Facebook | Website
---